The dragonfly dips its tail into the water and the "ripple effect" from this small action creates great change.
OUR MISSION
Through education, lifestyle modification, and holistic healing, the Healing Consciousness Foundation (HCF) vastly improves the quality of life for those affected by breast cancer. When faced with a breast cancer diagnosis, women and men must create their own path to healing. The HCF is there every step of the way on their journey.
"The retreat has been for my soul what chemotherapy was for my cancer… A complete pathologic response! It has been LIFESAVING not just life changing"
–Laura Geaches
Be The Change
Every Contribution Counts
Donations can also be used to acquire additional Healing Certificates
Media & Press
The Latest from HCF & Dr. DuPree
Upcoming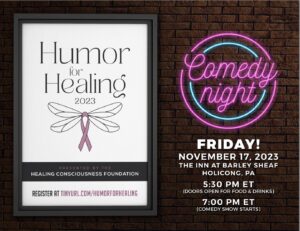 JOIN US FOR AN EVENING OF COMEDY!
Humor for Healing 2023 is hosted by Dr. DuPree and HCF to raise awareness of and funding for our mission. Get tickets now.
Upcoming

Create The Vision of YOUR LIFE
A vision board is a collage of pictures, text, and other items that represent and affirm one's dreams and ambitions, created to help visualize and focus on one or more specific aspirations. More info.
"I can physically remove your cancer and your body will heal your incisions, but only you have the ability to heal your soul"
–Beth Baughman DuPree